Trends we love: Peplum Tendency
Ahora toca hablar del peplum, esta tendencia se ha convertido en un exito en las calles y el punto exacto sobre el peplum es que se refiere a un tipo accesorio plisado en la cintura, creando una forma de reloja de arena sobre el cuerpo.
Celebridades, como blake lively, michelle williams, emma stone y beyonce ya se han apuntado a esta tendencia de moda.
Now, it's time to talk about peplum , this tendency has become a high-street hit and whole point of a peplum is that it refers to a part with a pleat at the waist, creating a hourglass shape.
Celebrities, like blake lively, michelle williams, emma stone and beyonce has already adhered to this fashion tendency.

Un peplum, no te hara lucir mas delgada, pero tal vez podria disimular tu ancita (en caso de que tengas). No lo recomendaria para chicas que tengas el cuerpo tipo manzana y además debe ser evitado por chicas con caderas anchas, porque la tendencia es atraer los ojos a esta region.
A peplum won't make you look thin. but it might can hide your tummy (in case you have). I would not recommend it for girls with apple body type and also should be avoided by women with wide hips because the tendency is to attract the eyes to that region.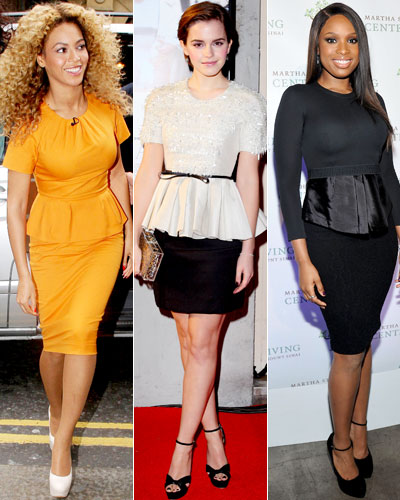 Puedes encontrar vestidos o faldas peplum, todo depende de que tan comoda te sientes con ellos y de cual es tu estilo favorito.
You can find peplum dresses, and skirts, it depends how comfy you feel and wich is your favorite style.
Incluso esta moda ha llegado a las novias, diseñadores han incorporado esta tendencia al mundo de las bodas.
There are also peplum bridal dresses, designers has incorporated this tendency to the fashion bridal world.