Stylish Report: Myths about fashion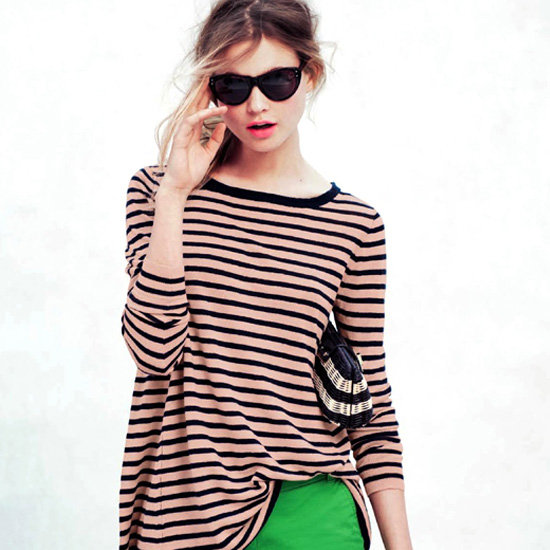 1.-Does wearing striped clothes make me look bigger or thinner? Yes.
¿Usar rayas me hace ver mas ancha o mas delgada? Si.
Horizontal stripes actually make you look bigger than you are.
I would not reccomend horizontal stripped shirts or dresses for people with a belly or with
apple
body type . But you can still wear stripped skirts if you want to highlight your hips (in case you dont have enough), so dont use horizontal stripes skirts if you want downplay your hips.
Las rayas horizontales de hecho te hacen lucir mas ancha o redonda de lo que eres.
no te recomiendo usar blusas con rayas horizontales si tienes barriga o tienes el tipo de cuerpo de
manzana
.
pero si puedes utilizar este tipo de rayas en faldas si lo que quieres es resaltar tus caderas ( en caso de que casi no tengas), asi que si ya eres caderona evitalas.
Vertical stripes or a pattern that is vertical on the other hand make one look long and lean. so it means, that if you want to look thinner, or you want to make your legs look longer, this is the perfect choice for you.
las rayas horizontales o un patron vertical te hacen lucir larga y delgada. esto significa que si tu intención es lucir mas delgada o quieres que tus piernas se vean mas largas esta es una buena opción.
2.- Can short, petite girls wear maxi skirts/ dresses?
¿Es recomendable para las de estatura baja usar maxi faldas/vestidos?
Well, i think it depends a lot about what print it has, because if you use flowers, strips, or light colors, it's possible you look shorter than you are, and also bigger.
but, you can try wearing black maxi/skirts dresses or without prints. if you are tall, no problem at all.
Bueno, creo depende mucho del estampado que tenga, porque si usas flores, colores claros, incluso rayas horizontales es posibles que luscas mas bajita de lo que eres y ademas un poco mas ancha. pero, esto no significa que no puedas estar a la moda, puedes usar vestidos o faldas maxi en color negro, colores oscuros, o sin estampados. si ya eres alta no tendras problema en lo absoluto.
3.-Black makes you look thinner and white bigger.
El negro te hace ver mas delgada y el blanco mas ancha.
Generally slim people wearing white don't appear as slim as they are. So white's perfect for skinny girls. especially, if you use this color in zones you want to highlight, bust, hips, or bum.
Black makes you look slimmer, it means it is perefect for big girls.
Generalmente las personas delgadas que usan ropa blanca pueden disimular su delgadez usando ropa blanca, asi que el blanco es perfecto para las chicas que son muy delgadas. especialmente si lo usan en zonas que pretenden resaltar, tales como busto, cadera y trasero.
El negro te hace ver mas delgada, asi que esto significa que es perfecto si eres de compleccion ancha.